The "Pickiest" Solar PV Company: Why ACC can Obtain a US $40 million Project Finance Facility from Goldman Sachs
Date: 2016-02-02    Source: SolarBe
ACC officially entered China distributed solar PV market at the end of 2014. They have completed several distributed solar PV demonstration projects with Ikea, Unilever, Andritz, Swire, Coca-Cola, and other multinational corporations. ACC has received a US $40 million Project Finance Facility from Goldman Sachs. Goldman Sachs has a long-standing commitment to clean energy with a target to finance and invest $150 billion by 2025. ACC's distributed solar PV scheme has been an integral part of attaining this goal.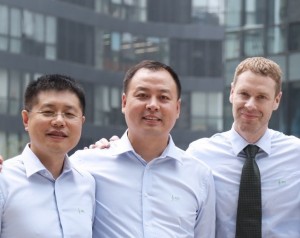 ACC Management Team
In an office of over 200 square meters in Chaowai SOHO, more than twenty young people are busy at work. The team leader is an American, Mr. Thomas Lapham, and his Chinese name Tang Hanwen.
The company is headquartered in Hong Kong, with their Business Operations center located in Beijing. The team is made up of a group of highly qualified employees, most of whom have graduated from elite colleges or have experience working in foreign companies. Mr. Thomas Lapham is the CEO of ACC. Tom is a lifelong entrepreneur, prior to joining ACC, Tom cofounded a renewable energy company in the U.S. which he grew to an industry leading position with 5 locations, and eventually sold to one of the UK's leading renewable energy corporations. Mr. Tang Hao is their Senior VP, and before joining ACC he worked as the Sales & Marketing Director of Landis & Gyr in the SIMENS Group and was the National Head of Sales for the French conglomerate, Nexans. Mr. Lv Liancheng (Michael), the CFO, has more than 20 years of experience focusing on energy, corporate strategy and setup, M&A, investment, and corporate finance. He is a certified management accountant of the American Institute of Certified Management Accountants Association. ACC is a small company, similar to a branch office of some larger enterprises, but the business they are focusing on and the projects they have completed are achievements at which even those large enterprises have failed—the investment and development of Distributed Solar Photovoltaic (PV) projects.Michael has more than 17 years work experience at multinational companies, focusing on energy, strategy and setup, M&A, investment, financing and corporate finance. Certified Management Accountants (CMA); BA in Mechanical Engineering, worked as Sales & Marketing director of Landis & Gyr. Prior to that Hao served as National Sales Head for the French conglomerate, Nexans. worked as Sales & Marketing director of Landis & Gyr. Prior to that Hao served as National Sales Head for the French conglomerate, Nexans. worked as Sales & Marketing director of Landis & Gyr. Prior to that Hao served as National Sales Head for the French conglomerate, Nexans.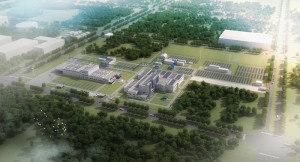 ACC Solar PV Scheme
How difficult is it to develop Distributed Solar PV in China? The Solar PV industry has been ranked the top priority by China's Energy Bureau in the past two years. In addition to the central government's nationwide electricity subsidy, local levels of government, including provincial governments and city level governments in many regions, have established related subsidy policies to promote the adoption of solar PV systems. The Beijing City government announced a rebate of RMB 0.3 per kWh for 5 years for each distributed solar PV project. In 2014, China set a target of 8 GW capacity from distributed solar PV systems but only managed to install 2.05 GW by the end of the year. After this poor result, China's National Energy Bureau cancelled its capacity limitation of distributed solar PV. The adjustment of the policy indicates the immaturity of the distributed solar PV industry. After the distributed solar PV market struggled for two years, most companies ditched their efforts to focus solely on larger solar PV power stations.
The distributed solar PV industry has been regarded as immature and challenging to enter into due to unique difficulties faced in China. Until now, it was difficult to find a universal solution for the desired rapid development of rooftop solar PV systems for residential and commercial buildings.
Chinese Style Distributed Solar VS Chinese Style Building Owners
There are several difficulties in deploying distributed solar PV in China:
Most Chinese citizens don't have rooftop property. Due to high population density, most Chinese citizens live in apartments and don't have control of what development occurs to their building. Coupled with old city transformation and urbanization, the uncertainty of distributed solar PV's benefits have increased. There are hardly any companies willing to invest in distributed solar PV facilities for residential buildings, and the opportunity cost to the citizens is extremely high due to the lack of professional knowledge in solar PV technology.
Commercial building owners don't want to invest in rooftop solar PV facilities. Most of the time, building owners would cooperate with solar station developers who would finance and install the facilities. The two parties would enter into an Energy Management Contract (EMC) where the solar station developer would sell the power generated by the system to the building owner, while renting the rooftop space for the duration of the EMC. However, the average lifetime of a Chinese company is six years; and when compared with the 25-year lifetime of a solar PV system it makes no sense for the developer to enter into this contract only to dissolve it six years later. There are too many risk for a solar PV developer to consider, leading to the decision to not embark into the distributed solar PV industry.
Operation and Maintenance (O&M). Currently, developers operate and maintain their large scale solar PV power stations through the use of smart O&M systems, remote control systems, and site management. But for distributed solar PV, as the project scale is small and widespread, meaning both cost and technical requirements are higher than large scale solar PV power stations.
There are other problems such as long payback periods. The upfront costs of distributed solar PV systems are very large, resulting in long payback periods. Financing through the stock market and assets securitization are two necessary methods to maintain continuous development capability. To define whether one project can be securitized, the developer should make sure the project scale is large enough. Fund-raising institutions prefer to invest in Solar PV power station projects which they view with much fewer risks than distributed solar PV projects.
"Pickiest": the Second Round Distributed Solar Market Segmentation
ACC has achieved a great performance in China's distributed solar PV market. ACC officially entered China's distributed solar PV market at the end of 2014. They have completed several distributed solar PV demonstration projects with Ikea, Unilever, Andritz, Swire, Coca-Cola, and other multinational corporations. ACC has received a US $40 million Project Finance Facility from Goldman Sachs. Goldman Sachs has a long-standing commitment to clean energy with a target to finance and invest $150 billion by 2025. ACC's distributed solar PV scheme has been an integral part of attaining this goal.
Goldman Sachs is the world's leader in Green Financing field with their Clean Energy Program kicking off in November 2005. They're the first company that has participated in the Solar Energy Rating Securitization, they have the first U.S.A YieldCo listing, they issued the first Green Energy debenture, as well as the first Clean Energy product securitization. But as of 2012, Goldman Sachs has only invested US $40 billion, far behind their 2025 target. Improving the investment target shows the investment institution's confidence in the Clean Energy industry.
"The cooperation between Goldman and ACC signifies a substantial vote of confidence in the future of ACC and also in the fundamentals of the rooftop solar industry in China," said Thomas Lapham, CEO of ACC. "We are excited to work with Goldman Sachs given their deep technical knowledge, global network and experience in investing in China. Some of the world's largest and most important corporations rely on ACC's solar solutions. Goldman Sachs' backing will further ensure that we can continue to enhance our product offerings to meet and exceed their high standards."
How did ACC obtain the capital? The answer is "fastidiousness"
ACC's orientation is interesting: they further segment the distributed solar PV market, filter out projects with high risks and a low price/performance ratio, and focus on the roof facilities that are owned by foreign companies and China's leading companies. "People think the distributed solar PV market is immature in China, but after we conducted the market segmentation, we still can find many qualified projects and clients." Said Thomas Lapham. The target size of ACC's projects is normally 1 to 20 MW. The company is focused on investing and operating Solar PV systems on industrial and commercial roofs, and then selling the renewable energy to the clients at a discounted price relative to the local electricity prices.
"We will take our clients' operation capacity and integrity into consideration," Said Tang Hao, Senior VP of ACC, "Influenced by the spirit of the contract, the two parties will adhere to the contract terms, and we take into consideration potential problems that may occur in the contract period, resulting in only slight adjustments to the proposed time required for the completion of each specific project". When negotiating with Fortune 500 companies, the foreign representatives mentioned the potential for their facilities to be moved to other provinces or even outside of China, and how to deal with the responsibility of default. Hao said they're very happy to see their clients discuss such questions with them, as it shows the emphasis on the contract from the clients' side. He told the clients ACC will assist clients on the facility transformation, and any additional cost will be shared by two parties at an agreed ratio.
Being picky doesn't only end with potential clients. ACC is also picky in all internal aspects. Michael Lv, CFO of ACC said, "ACC will take charge of the whole investment, and provide Solar PV system design, government procedures application, equipment procurement, system installation, as well as long term operation and maintenance. The business development, system investment, ongoing project financing and asset management phases are all managed by ACC. ACC only operates with the best Engineering Procurement Construction (EPC) contractors and O&M suppliers. The entire Solar PV industry chain is an ecosystem. We don't plan to earn money in each link of the industry chain, and cooperation will enable ACC to focus on its chosen industry link".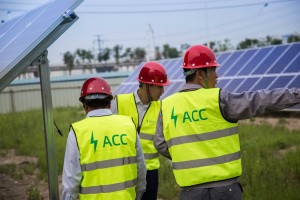 Site Construction
Additionally, high quality enterprises have a strong sense on both the corporation sustainability responsibility and the company's social mission. The Solar PV cooperation between ACC and Unilever even attracted the attention of Mr. Paul Polman, President of Unilever. He travelled specifically to Tianjin to visit the site where ACC was implementing the distributed solar PV system. Mr. Paul Polman introduced a program in 2011 that the company's income should be doubled, while its impact on the environment should be halved by 2020. Similarly, Coca-Cola, Pepsi, Apple, GE, Siemens, IKEA, and others have kicked off similar programs. Unilever and ACC hope to expand their cooperation this year to develop the rooftop distributed solar PV system for a number of Unilever's other facilities in the Asia Pacific region.
The capacity of ACC Solar PV system in Unilever Tianjin Industry Park is 1.4MW, composed of 5,492 solar panels. The average daily peak sunlight radiation time in Tianjin region is 4 hours (6 hours in summer, and 2-3 hours in winter). The power output of the Solar system is 4600kwh per day. This will meet 20% of the park's electricity consumption demand requirements. Compared with conventional thermal power generation stations, the system will reduce CO2 emissions by approximate 42,354 tons within 25 years. ACC's clean energy solution will help Unilever in reducing its operation costs, as well as make a significant contribution to their CRS goals and local ecological environment construction.
To foreign investors like Goldman Sachs, investing in small scale but highly qualified projects is much more attractive than large scale, low qualified projects. They have forecasted an excellent growth for the Solar PV industry. "Through this facility with Asia Clean Capital, we are able to help expand access to rooftop solar solutions and contribute to China's goals of accelerating renewable energy deployment." said Kyung-Ah Park, a managing director and head of the Environmental Markets Group at Goldman Sachs.
"ACC plans to develop 100MW commercial rooftop Distributed Solar PV in 2016. Our advantaged resource platform and brand will surely attract more and more world class partners along with the expansion of ACC's solar business," Said Michael Lv, "Solar industry is a capital-intensive industry …we are focusing on financing, efficient asset allocation, asset operation and management optimization. ACC aims to be the largest Distributed Solar Developer in China in the following 3 years!"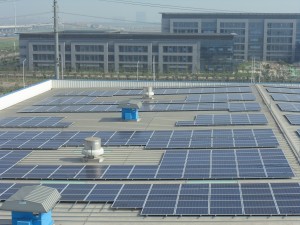 Rooftop Solar PV
"Elegant enough to show around to the guests, and diligent enough to make good cuisines." — Essential Character of Distributed Solar Development
 A good Distributed Solar Developer should have the essential characters of the idea traditional Chines woman, "Elegant enough to show around to the guests, and diligent enough to make good cuisines." ACC is capable of communicating well with its clients, sharing ideas and thoughts with them, and devoting itself to high quality projects. Normally, the size of Distributed Solar PV is small, delicate management measures to control the cost is also very important.
Mr. Thomas Lapham, CEO of ACC is an American, but is well educated about the Eastern style philosophy and Chinese customs while still maintaining the Western mentality. Tom's Chinese language level has surpassed "TEM-8." Initially, the author had asked a series of questions including ACC's Distributed Solar business, ACC financed business model, the business model comparison between ACC and Solarcity. Tom had waited for a long time and didn't interrupt the conversation between the author and Michael. At the end of the conversation, even the author nearly failed to remember the previous questions, but Tom duly had the answers to the previous questions replying "SolarCity focuses on residential projects with system capacity under 10Kw, ACC focus on commercial rooftop projects…"
The foreign company work experience and educational background provided by elite schools of ACC staff and high management team doesn't just look good on paper. Mr. Tang Hao, Senior VP said, "We have similar educational backgrounds and work experience as our clients, making us more familiar with foreign clients' work style and allowing for easy communication." Tang Hao told the author for some large scale Distributed project, the Chinese style project development method is to communicate with the building owner, and build relationships with all related people. ACC aims to meet with all project team members involved and win the clients recognition and respect.
To save time and money, ACC team have developed an optimized project development process, similar to assembly line work. When team members are travelling for business, they plan to meet with as many clients as possible to improve the efficiency of the trip and reduce the overall costs.
The reasons that the author likes ACC is because they always stay conscious to their mission and remain grounded. Many companies fly too close to the sun and the development goals they set are too ambitious for their resources and business executive ability. Maybe the rise of ACC will help the solar industry to mature, while remaining down to earth, but making the most of every opportunity under the sun.